---
Step by Step Video Tutorials
---
Looking for fun step by step videos to learn Adobe Illustrator? Each of the tutorials are slow and easy to follow for brand new artists to follow along to, and move into some more advanced topics for those that are looking to improve your skill sets and workflows.
---
---
Easy to Follow for Beginners
---
Each of our tutorials comes with and overview of the steps, anchor point guides, color palettes, and 2 instructional videos. Everything is provided through our resource folder for you to follow along at home or in the classroom.
---
---
Build Upon your Skill Sets
---
I am a big believer in repetition, especially to get all of the bugs out while learning the program. We have a variety of different tutorials that get more challenging as your skill sets and confidence grows with the completion of each tutorial.
---
Anchor Point Guides
---
Each of our tutorials comes with and anchor point guide to show the points and handles to follow along at home.
---
---
Pen Tool Basics
---
The guides make the tutorial very user friendly to gain mastery of the pen tool with a 2 step approach to inking using your mouse.
---
---
Point by Point Construction
---
We build each tutorial point by point using our Anchor Point guides so we can gain master of the pen, anchor, and direct selection tools.
Getting your Tutorial Resources
Can't See Form?

If you can't see the contact form above please remove ad or pop up blockers from your browser to see the form. Feel free to add back on the blocker and security after you get your resources.

Check your Email for the Folder Link (Promotions or Spam)

Link has been sent to the email you provided. Check your inbox (promotions or spam folder) for the direct link to our resource folder for our challenges, tutorials, anchor point guides, and brushes.

Download Resources

In the upper right hand corner of our folder webpage you will see a direct download button. I also highly recommend saving the resource Dropbox folder webpage as a bookmark so you have access to current and future materials.

Bookmark Folder

Bookmarking the Dropbox folder will make it easy to access all of the future tutorial resources as soon they roll out. This will prevent you from having to dig back through your email inbox for the link. It will also prevent any frustration if you delete the original email. Please note that re-subscribing does not send a new or duplicate email.

Comment on YouTube

Let me know that you are going through the tutorials! My favorite part of the day is going through the comments you leave and being as much help as possible as you are working through the resources and tutorials.
Installing Cartoon Brushes
Open Brush Panel

Open your brush menu from the floating panels. If you don't see the Brush icon, Go under Window- Select Brushes.

Click Open Brush Library

On the bottom- left hand corner of your Brush Menu you will see Open Brush Library icon. Click it and Select Other Library.

Select Brush Library File

In each tutorial we will mention what Brush Library File we are using. Simply Click on the File and Click Open. The Brush Library will pop up and be ready for use. If you are watching an older video use the Cartoon Brushes Library rather than installing them or creating New Art Brushes.

Installing Cartoon Brushes File and Video

On a lot of the older videos we mention a How to Install your Cartoon Brushes Video and File. You will see the file in the resource folder. This is if you are looking to create new art brushes for a different file size other than 5″ x 5″. Every tutorial can use the updated Brush Libraries for ease of use.
Installing Color Swatches
Open Swatch Panel

Open your swatch panel. If you don't see the Swatch icon, Go under Window- Select Swatches.

Click Open Swatch Library

On the bottom- left hand corner of your Swatch Window you will see Open Swatch Library icon. Click it and Select Other Library.

Select Swatch ASE Library File

In each tutorial we will mention what Swatch Library File we are using or if we are using Spot Colors. Simply Click on the ASE File and Click Open. The Swatch Library will pop up and be ready for use. Click on the folder next to move the pop up swatches into your swatches. This will be important when using Gradients.

Spot Color Using EyeDropper

On some of the older videos we use spot color using the eyedropper tool. First File – Place your Color Swatches. Double Check your layer is unlocked. Use the Eyedropper to select and move the colors to your swatches. Create a New Color Group if you are looking to reuse or save the colors.
Placing Anchor Point Guides
Create a NEW Document

Make sure you are following the tutorials and creating a new 5″x 5″ artboard. One of the mistakes beginners make is opening the resource folder and double clicking or opening the anchor point guide. We will be PLACING the image into the NEW document we just created.

Place Anchor Point Image

In your newly created file select File -scroll down to Place. Locate your downloaded resource folder. Please note that you will have needed to download a local copy during the previous step. Locate the APG you are using and click Place.

Resizing and Centering APG's

Some APG's will already be formatted for a 5″x5″ artboard. Some Might need to be scaled using your selection tool. Hold Shift and drag from the corners until the image fills the space. In your Align Panel, have Align to Artboard Selected. You can see it in the Control Panel or in your floating Panels. (Window – Align) Click CENTER vertically and horizontally.

Creating a Template Layer

In your Layers Panel have the Placed image on its own layer. This is always the first step so you shouldn't have any other elements on this layer. In your Layers Menu – scroll down to select Template. This will Lock Out the layer and give it some transparency. Create a NEW layer above the Template layer to start adding shapes or strokes.
Create Happy
Turn On Smart Guides

Under View – Turn on Smart Guides. To modify Smart Guides to make them more user friendly and not the most annoying things ever. Go to Preferences – Smart Guides. Turn Off: Measurement Labels, Alignment Guides, and Spacing Guides. You can also adjust the color so there aren't hot pink lines flashing everywhere.

Large Handles and Anchors

In your Preferences- Selection and Anchor Display you can adjust the size of your handles and anchors. My recommendation is to have them larger than the default so your mouse has a bigger target to hit.

Two Screen Viewing

I highly recommend having Illustrator on your computer screen and have a second viewing device on a tablet or phone. Most phone screens are big enough to see the videos. This will make life so much better than constantly toggling back and forth on your computer between YouTube and Illustrator.

Ask More Questions

If you are struggling with any of the tutorials please do not hesitate to ask in the comments section of the video you are watching. Please don't let the frustration build, throw your mouse across the room, or curse at your cat. I am pretty consistent about checking multiple times a day to troubleshoot any issues for beginners.
Easy Beginner Tutorial using Shapes
Adobe Illustrator CC Tutorial using shapes along with shape builder, pathfinder, and offset paths.
In this easy beginner Adobe Illustrator CC shapes tutorial we will be going through a simple process of building and coloring using shapes. In this easy to follow tutorial we will be going through our resource anchor point guide to build our character and practice using shapes, round corners, shape builder, and the align panel.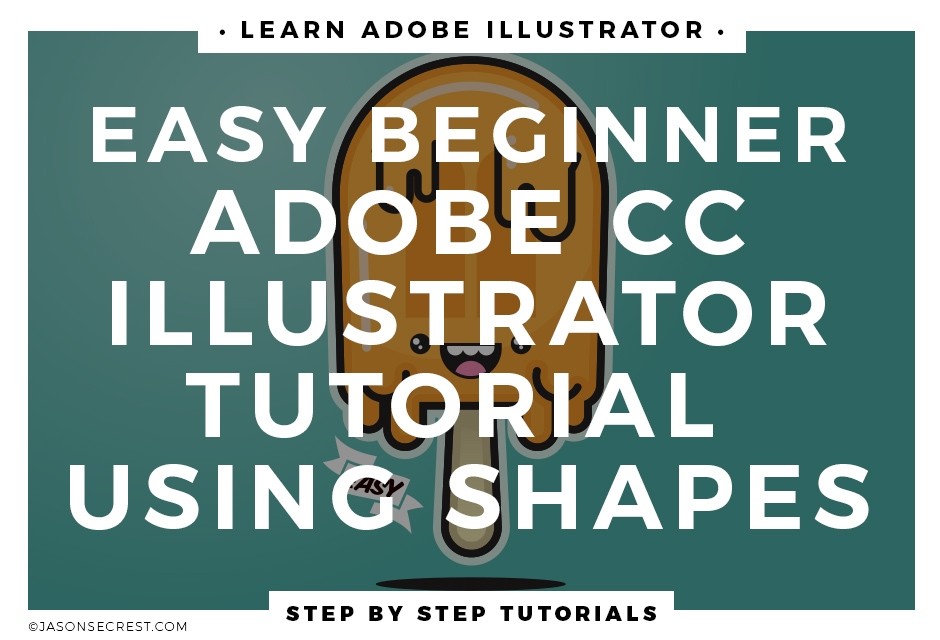 Building with Shapes
Shapes are an easy an effective way of building in Illustrator. Align ellipse and rectangles shapes with our resource anchor point guide. Use the align panel to align to selection and artboard to make symmetrical designs.
Round Corners
One of the coolest features to roll out in recent years. Select the corners you want to round and drag in using your white arrow. If you are using older versions of Ai this will be and stylize effect-round corners.
Shape Builder
Shape builder will be a new favorite, especially if you are struggling with pathfinder. Drag through the shapes you want to combine into a new shape and hold alt-option to subtract shapes.

Using Resource Folder
1. Place the anchor point guide into NEW illustrator document and scale to fit the 5″x 5″ artboard. In your layers menu select Template Layer. Create a New layer ABOVE IT for inking.
Align Panel
2. Things to pay attention to as you are using the Align Panel is how often we are ground objects together. This will prevent them from collapsing. Every time you click align make sure to take an extra second to look at align to selection or artboard. Usually align to artboard is selected and your shapes fly across the artboard.
Pathfinder Shadow
3. Easy pathfinder explanation. Copy the base color and paste is front. This is the step everyone forgets. Build a new circle shape that is bigger and covers the top of the base color. You are looking only at the bottom shape. Select circle and duplicate base. Minus front.
Shape Builder
4. Select the shapes you want to merge together or subtract. Use Control Y to see if you paths are touching. This is good to zoom in and really look at your paths. If ou get any stray point use the (- ) or delete anchor tool to get rid of them.
Share this Awesome Tutorial
Thank you, thank you, thank you for all of your tutorials. It's one think to draw on paper, yet another to create artwork directly in Illustrator and yet again a completely different game to take hand drawn work into Illustrator. You've managed to make this process make sense and again, I thank you for your video tutorials, they've been a real godsend.jeremy rozen
First time dive into Illustrator. This was great, learned a ton! ThanksPhilippe Lachenal
Top notch video as usual man. Cheers!Made by Mighty
awesome tutorial.I have finally completed my first illustrator project!!!Thank you.Pirata Loco
I appreciate your videos. I have been an illustrator user for years and have my own ways of doing things. It's great to see other ways of using tools and learning tricks I didn't know were available! It's also good to see you doing the same thing as me in other instances, confirming I'm on the right track!Andy Zenz
THANK YOU THIS IS MY FIRST DRAW THANK YOU FOR EXPLANING VERY WELL :DJonathan Juarez
Awesome tutorial! I don't think I've picked up something so easily from someone who knows what they are doing. I managed to draw my first vector art and it was a joy! Great work keep it up!blitz145
Very clear and easy tutorial, indeed. Thank you so much! I've learned a lot through this clip.Hailie Burgess
thanks dude your tutorials really helped a beginner like me, keep up the awesome work!!!Giovani Linton
Love your video thanks so much. you blow Lynda.com out of the water!!!!Steve Yensel
A hero amongst artists 🙂 perfect. Thank you!Payton Pellitteri
Brilliant video. So much great info packed in here. I'm just getting started drawing cartoons with my Wacom tablet, and this was a huge help. Thumbs up and thanks!Dorian Staten
Wow Thanks Jason…was really struggling with making images with basic shapes. Your tutorial is helping me out!!Kishor Rajani
thanks a lot you are really one of my favorites, I like the steps you give us, and I'm so thankful for that effort you do for helping us :)Wessam Lotfi
Thank you so much man, I loved the way you explain this, I spent days looking for a good tutorial vid, thanks a lot, gonna keep watching your videos!!!Karel Marccenaro
Wow and wow. Your tutorials are just fantastic. Thank you so much for sharing these. I had always wondered how someone got such lovely inked lines for a drawing in illustrator. Keep up the great workJason Crawford
These tutorials are amazing. Just started using illustrator and really glad I found your channel. The only videos that explain everything step by stepAida Stan
Jason, thank you for the amazing tutorials. Very elegant and rational art style and workflow! I'll probably go and watch every single tutorial.

Also thank you for sharing your brushes and sketches. Very useful resources!Riste Sekuloski
keep it buddy, u make good tutorial for a beginner like me. so pls. make more of it. thks its so helpfullDORMAN
You are definitely one of the best teachers I've found dealing with start to finish creative process. Great work!!!Jasen Fisher
Thank you loads! Compared to other tutorials, yours are just really well-explained and easy-to-follow. Can totally see that you've got a passion for what you're doing and that's just wonderful! 🙂 Keep it up, you're doing an amazing job. Yulia Kachurova